'You are looking at women in only one angle? That's not right,' angry Harbhajan Singh slams Hardik Pandya and KL Rahul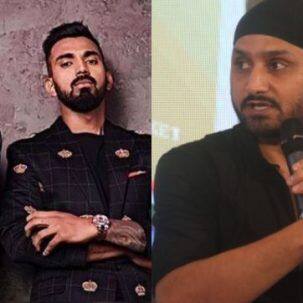 Let's accept that cricketers are demi-gods in India. The respect for cricketers in our country is immense and even foreign players say the reverence for the sport and its sportsmen is something else in our country. In such a scenario, KL Rahul and Hardik Pandya have invited the ire of the entire nation. Both of them were guests on Karan Johar's chat show where they made a number of sexist and misogynistic statements about women. While Rahul was somewhat restrained, Pandya did not exercise any restraint. From saying that he told his parents about his first sexual encounter to stating that players allow teammates to use their rooms if they bring in girls, his statements shocked many. While sportsmen having a high testosterone level can be understood such racist, sexist and misogynistic comments were highly disturbing. It is more shocking if you consider that they are playing at the highest level.
Indian cricketer Harbhajan Singh is livid at what Hardik Pandya and KL Rahul have said on the show. He is upset at what they have said have cast aspersions on the conduct of Indian cricketers in general. He said he saw the suspension coming. In a statement to India Today, he said, "They have openly said.. 'I have done this, I have done that'. It was shocking to me. Many of my seniors, my friends have been talking about it and it has been shocking to all of them. He [Hardik] tried to look cool on TV by putting other players also on the same level. People might think that Harbhajan Singh is one of them, Anil Kumble is also one of them and Sachin Tendulkar is also one of them. We are not like them. This is wrong. They need to understand they play cricket and people treat them as gods. They can't go out and say such things while pretending to be cool. You're making fool out of yourself. This definitely was going to happen."
Harbhajan who has done quite a few projects on TV said that their comments on women were extremely derogatory. He further told India Today, "Look, the punishment could be a two-match or three-match ban. That will not change anything. Their reputation was at stake, they have lost the trust of their teammates. If he comes and stands next to you at a party, would you like to stand next to him? I will not travel with these two guys in the same bus because if my daughter, if my wife is travelling in the team bus….how would they feel? You are looking at women in only one angle? That's not right. "It's actually hurting us. He is bringing everyone's reputation on the stake, including Sachin Tendulkar's and all that of these great players who have played for the country for more than 20 years. He's talking about using other teammates' room. 'C'mon man what are you talking about? You have been in the team for only one year. What do you know about the team?." Stay tuned to BL for more updates!
'You are looking at women in only one angle? That's not right,' angry Harbhajan Singh slams Hardik Pandya and KL Rahul
Reviewed by
ghost
on
January 11, 2019
Rating: