Viswasam Meta Review: Thala Ajith and director Siva set fans' mood for Pongal with this rural entertainer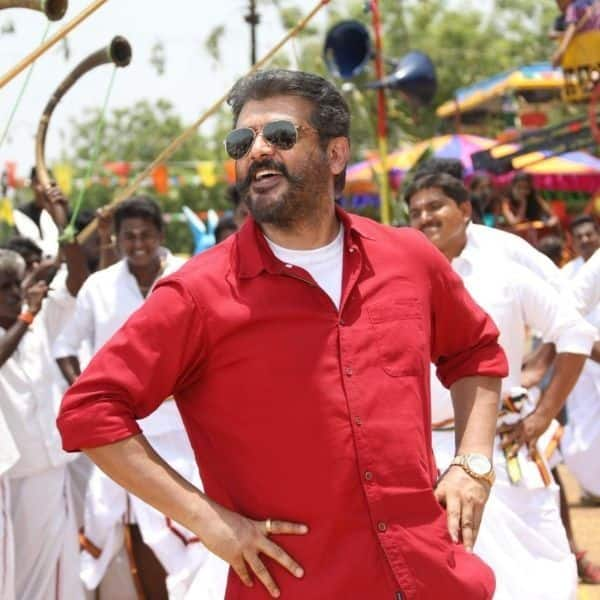 Thala Ajith-starrer Viswasam has released today and fans cannot contain their excitement. Directed by Siruthai Siva, Viswasam has Ajith playing a massy role set in the rural backdrop. What adds to this setup is his salt n pepper look which has sent fans into a franzy. And as the first shows of Viswasam ended, fans came out with happy faces and were seen celebrating. While Viswasam has received great response from audience, the film has managed to impress the critics too across the South India. Check out few tweets about Viswasam from critics right here:



#Viswasam 3/5. Racy and entertaining and best of #Thala–@directorsiva combo. #Ajith–#Nayanthara subtle romance & his scenes with #Anikha work big time emotionally. Story is predictable & formulaic but #Ajith's screen presence & charisma carries the show and makes it enjoyable.




— Sreedhar Pillai (@sri50) January 10, 2019






#Viswasam – Offers something extra which isn't revealed in the trailer. @directorsiva's social message this time is on the importance of good parenting. Perfect for the family audience.. #ThalaAjith's 'ideal family man' image makes him the best to deliver such msgs onscreen.




— Kaushik LM (@LMKMovieManiac) January 10, 2019






#Viswasam is a complete family Entertainer. Delighted to see #ThalaAjith in such a loving role of a caring father. Kudos. The film moves us emotionally &entertains throughout. Brilliant work by @directorsiva congrats @SathyaJyothi_ films. #Nayanthara is superb in her role. Mass? pic.twitter.com/KfPzsmjqfS




— Dhananjayan BOFTA (@Dhananjayang) January 10, 2019






#Viswasam [4/5]: Finally @directorsiva has provided festival entertainment with right ingredients and emotions to satisfy both fans and family audience..




The movie will hit the Bull's eye at the Box office.. A Festival like #Pongal couldn't have a better entertainer than this..




— Ramesh Bala (@rameshlaus) January 10, 2019






#Viswasam A perfectly packaged mass entertainer for festival audiences. Will surely satisfy fans as well as family audiences for the nice blend of emotions, action and mass elements in equal measure. Adequately entertaining!#ThalaAjith and @directorsiva have a winner guys!




— Surendhar MK (@SurendharMK) January 9, 2019



Audiences and critics have been heaping praises on the film and the ratings too have been like never-seen-before. What has been receiving special is the crackling chemistry between Ajith and Nayanthara who pair up for the third time. The cage fight in the film is also garnering great attention from all around and fans seem mighty pleased with the way it was presented on screen. Music composer Imaan's background scores and the tracks in the album too add to the elevation in the film.
Viswasam Meta Review: Thala Ajith and director Siva set fans' mood for Pongal with this rural entertainer
Reviewed by
ghost
on
January 10, 2019
Rating: