Kundali Bhagya 16 January 2019 written update of full episode: Monisha doubts on Prithvi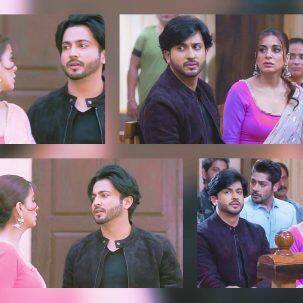 Today's episode starts with Srishty in the police station with Sameer. He is scared so he asks her for her plan. She asks him to just be with her and let her plan be a secret. She is happy as there will some other inspector and constable as their shifts has changed. They give some fake names to the constable requesting him to let them meet Billa. The constable doubts on them but Srishty handles it properly. The constable allows her to meet Billa. Sameer asks her about her plan. She says that she cannot see her sister and Luthras upset because of anyone. So she wants to know the name of mastermind from Billa.
On the other side, Kritika goes to look for Prithvi as he is drunk and she fears that he may reveal the fact to someone. Preeta wonders where Shristy is. She notices that Rishabh's grandmother crying as Rishabh and Karan both have been arrested. Their mother consoles her to be strong as she is their foundation. Preeta also feels that she is able to handle Rishabh's family on his behalf. She enters the room with a glass of milk. Preeta asks grandmother not to be tensed as Rishabh and Karan will be released and back home soon.
In the next scene, Monisha is crying looking at Ritwik's photo. Prithvi comes her home. He knocks on the door. She is shocked to see him. He is very drunk so he cannot stand properly. He thanks her for whatever she has done. He says that he is very happy. Monisha questions him whether he is guilty in Ritwik's murder. She doubts on him about it. Prithvi admits it unknowingly. She gives him a tight slap. She calls him double minded. She blames him for killing Ritwik and trying to mislead her against Luthras. She keeps on slapping him a lot as she wants to know the truth.By that time Kritika comes there. She stops Monisha saying that they are from her and Ritwik's side. Prithvi also supports to what she said. But Monisha is still not ablel to believe him. She warns them she will kill Prithvi if she doubts even 1% on him for Ritwik's murder. Kritika takes Prithvi from there.
In the police station, constable takes Shrishty and Sameer to meet Billa. He gets scared to see her. Shrishty questions him about the truth but Billa doesn't tell her anything. Billa agrees to tell her the truth on the condition that she should be his girlfriend. Shrishty kicks him on the back side. She threatens him to beat him if he doesn't tell her the truth. But still Billa takes Rishabh's name. Shrishty again starts beating him. Sameer stops her. He tries to bribe Billa and promises to give him lots of money. But Billa doesn't change his answer at any cost. Shrishty gets angry. She starts beating him with a wooden stick kept there. By that time constables come there to handle the situation.
Kundali Bhagya 16 January 2019 written update of full episode: Monisha doubts on Prithvi
Reviewed by
ghost
on
January 16, 2019
Rating: