Kundali Bhagya 15 January 2019 written update of full episode: Karan goes to jail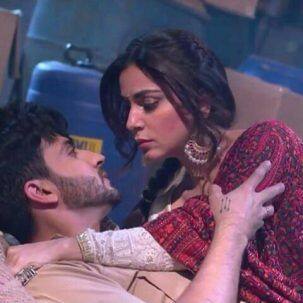 With Rishab (Manit Joura) going to jail and the situation of the show getting intense, Monisha (Manisha Sharma) adds some more tension by stepping into the court and emotionally manipulating the judge that Rishab is the killer and that he conspired his death by making him his business partner. Karan (Dheeraj Dhoopar) tries to interrupt but the judge, as well as Rishab, stop him. Monisha goes on and on and the judge too partially gets convinced with Monisha seeing her miserable state. Karan loses his temper and screams at her and goes on to strangle Monisha even after the judge's warning. Monisha takes advantage of that and puts allegations on the Luthras for being too violent.
Everyone tries to stop Karan and the judges say that it is contempt of court. The judge then asks the police officials to arrest Karan and adjourns the case hearing. Prithvi (Sanjay Gagnani) is super happy and thanks God for giving him more than he wanted. He has a bright smile on his face and thanks Monisha in his mind. Preeta (Shraddha Aarya) stops Monisha and says that whatever she has done today was not right. She says that she pities Ritwik even more as her girlfriend cannot even get him justice. Monisha leaves without saying a word.
Karan is aggressive even now and tries to attack the police for mistreating Rishab. Karan and Rishab are put in the same lockup.
They both scream at each other and Karan says that he has been thinking so much about him and that no one can ever misbehave or put wrong allegations on Rishab. Rishab screams at him and says that his aggression has brought even him to jail and now no one is at home to take care of the family. Seeing the two brothers fighting to each other for each other get us teary-eyed. Karan then gets tired of screaming and breaks down. Rishab, like an ideal elder brother, comes to console him and Karan says, "Rishab, tu hai toh mai hoon. Mujhe kuch nahi seekhna aur mera sab kuch tu hi karega. This is my lifestyle and I will not change it."
Karan keeps talking about how he has reached to the top only because of Rishab. He says that Rishab is the reason for all the centuries he hits on the ground. He asks Rishab not to try and send him back. As long as he is inside the jail with him, he will be here too. Karan adds that he cannot survive without Rishab and that he will not leave the jail until and unless Rishab is set free. They then hug it out and laugh. Rishab says that he is, in a way, happy that Karan has come. They both laugh and we go awww.
Prithvi is drunk real bad and goes crazy on the road. Sherlyn tries to control him. Prithvi is in no mood to listen and celebrates his happiness and says that his revenge is fulfilled now. Sending the Luthra brothers to jail was his biggest dream. He says that he has no tension now and he wants to celebrate to the fullest now. Sherlyn tries to calm him and make him understand that he is no condition to walk and that he must be home soon. Sherlyn gets a call from her mother and she asks Prithvi to keep quiet so that her mother doesn't hear his voice. While Sherlyn is talking to her mother, Prithvi gets into an auto and leaves.
Srishti (Anjum Fakih) tells Preeta that Janki aunty had asked her about what she feels about Prithvi. Preeta, who has already had a fight with Srishti for her dislike towards Prithvi, blames Srishti for trying to defame Prithvi and talk ill about him in front of Janki. Srishti tries to justify herself by saying that she has heard it from Janki that she saw Prithvi in her dream. But Preeta pays no heap and is about to leave for dadi's room to give her some milk but hears Rakhi screaming at Mahesh. Both Srishti and Preeta try to go and stop them.
Rakhi blames Mahesh for not hiring a good lawyer because of which both her sons went to jail. She puts allegations on him for not taking good care of her sons. Mahesh tries to explain but Rakhi bursts into tears and keeps on complaining. Preeta tries to interrupt but Rakhi stops her and tells Mahesh that he has to get Karan and Rishab out of jail as soon as possible. Preeta tries to get Mahesh out but Rakhi stops her and says that Mahesh has to listen to everything and that he is incapable of saving her sons. Mahesh leaves all broken and Rakhi too breaks down. Preeta tries her best to console Rakhi by hugging her and calming her down.
Kundali Bhagya 15 January 2019 written update of full episode: Karan goes to jail
Reviewed by
ghost
on
January 15, 2019
Rating: