Kundali Bhagya 10 January 2019 written update of full episode: Janki dreams about Prithvi threatening her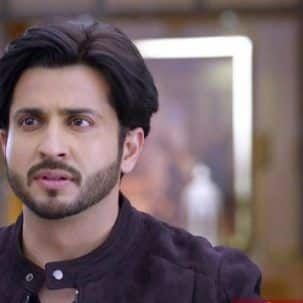 Today's episode starts with Preeta crying as all blame her for Rishabh's arrest and omened. Karan consoles her. He changes her mood. But she is very much hurt but Karan at the end of that succeeds to make her smile. He asks her not to mind the things said by Kareena bua to her. Preeta is still upset with whatever Kareena bua said to her. Karan hugs her and consoler her. So Preeta feels better as he makes her calm. Karan feels sad for whatever Kareena bua said to Preeta in order to humiliate her. He appreciates her honesty for their family specially Rishabh and him. Preeta hugs him as she gets emotional to hear all that. Later she realizes that she has hugged him. Karan holds her hand asking her to get downstairs along with him as there is cold. They keep on looking at each other. He leaves her hand. He goes downstairs followed by Preeta.
Manisha is still lost in the memories of Ritwik. She recollects what Preeta told her not to give statement against Rishabh as he is innocent and they can find out the real killer. She is in dilemma about it. She decides to make enquiry about Ritwik's murder before the hearing in the court. On the other side Prithvi is confident that no one can catch him even though he has killed Ritwik. His girlfriend asks him to be alert. But Prithvi is being over confident about it.
Janki remembers the incidence happened with Ritwik and also the moment when Prithvi threatened her while she is asleep. She wakes up. She is very scared. Her family members try to console her. They ask her to relax and go to sleep. Once she goes to sleep, they come out of her room. Biji also looks tensed as Janki is scared of her life in danger and also she shares that she saw Prithvi. So Biji doubt on Prithvi. Janki is still wondering about seeing Prithvi in her dream. She feels that it might be some message from God as Preeta is going to get married to Prithvi. She also thinks that there must be some problem because of which she saw such dream.
Next day morning, Preeta serves tea and breakfast to the members of Luthra family. But they are not willing to have anything as Rishabh is arrested and accused of a murder. Preeta makes them understand the situation and take care of their health for Rishabh. She boosts their moral to have to strength to fight and prove that Rishabh is innocent. So Rishabh's grandmother and aunt agree to have some food. Rishabh's mother is not happy with it as she hates Preeta. She waits for Sherlin as she is the would be daughter-in-law of their house. By that time the lawyer Mr. Malkani comes to meet Karan. Rishabh's mother, Karan and Preeta tell him that Rishabh is innocent. Karan asks him to handle Rishabh's case for them. The lawyer keeps on talking about his rests of the clients but Luthra family feels that the lawyer should prove that Rishabh is innocent and nothing else.
Kundali Bhagya 10 January 2019 written update of full episode: Janki dreams about Prithvi threatening her
Reviewed by
ghost
on
January 10, 2019
Rating: