Kumkum Bhagya 9 January 2019 written update of full episode: Abhi rejoice to know the fact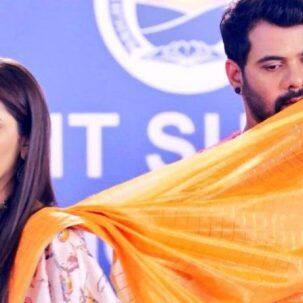 Today's episode starts with King calling Pragya asking for her passport as the officers of Indian Embassy have come for enquiry. Pragya doubts on the officers but King explains her that they want to know whether he is overstaying in India. Later he feels that someone has asked the officers to make the enquiry to trouble him. On the other side, Abhi asks Purab about whether King will show them the passport of Pragya. Bulbul and Purab are confident about it but Abhi is restless. So he asks them to do something fast so that King will reveal the fact. By that time he notices Pragya talking to someone else. King gets Pragya's passport. She also feels that there is something fishy. Abhi goes to Pragya. She also smiles at him. He recollects the good moments they spent together earlier. He gives her the hankerchief. She asks him to try some other trick to flirt with her. He says that he knows that she still remembers the day when he proposed her for the first time. But Pragya pretends as if she doesn't remember anything. So Abhi teases her by calling her double battery. She leaves from there. He feels that his style is still mesmerizing. By that time a lady comes there to pick up her handkerchief which he was about to give to Pragya. The lady takes it and leaves from there.
In the next scene, King's aunt serves glass of water for fourth time to Bulbul and Purab. She keeps watch on them. They talk to her to divert her. King brings the passport of Pragya. While drinking water, Purab's beard gets misplaced from his place. Till he fixes it, Bulbul pretends of coughing. So King and her aunt pay attention to her. The aunt doubts on both of them. She asks King to call the police. But King ignores her and asks her to go inside. Bulbul and Purab check the passport of Pragya. They learn that Pragya is not married to King. Bulbul as a Embassy officer asks King about whether Pragya is his wife. But King says nothing. They make him reveal the truth by asking him to show their marriage certificate. Finally he reveals that Pragya is just his manager and not his wife. Bulbul as a officer questions King on introducing him and Pragya as husband and wife. King reveals the reason for pretending to be married to Pragya. Later they leave from there appreciating him for his co-operation. They go out literally dancing with joy.
In the next scene, Kiara says to her friend Sunny that didn't perform good with her but Pragya comes there praising both of them for their performance in the dance rehearsal. Kiara say that Sunny didn't remember his lines so she had to remind him everytime. Abhi also comes there. Kiara asks her whether she would have accepted the proposal as a Cindrella. Pragya looks at Abhi and unknowingly says that she would have accepted the proposal. Abhi indirectly says to Pragya that we should always express the true feelings. Pragya leaves from along with Kiara avoiding talking to him.
Purab and Bulbul are very happy to know that Pragya is not married. Abhi is also very much happy as he also heard that Pragya is not married to King. He is happy as Pragya didn't cheat on him even though she didn't stay with him. Bulbul asks Abhi not to fight with Pragya but to understand the reason behind her decision. Abhi decides to ask how Pragya could live without him but he will never make her cry.He is very excited to meet Pragya after knowing the fact. He remembers the good moments spent with each other. Sunny comes there. He asks Abhi about the reason of being too happy. Abhi says that he is very happy so he is not able to control his happiness so he is crying. Sunny asks Abhi to thank the God for giving him happiness. Sunny takes him to a small temple in the school. He asks Abhi to thank God along with him, he also knows that Abhi doesn't believe in God so he will go once he thanks God so that Abhi can thank God in his own way. Abhi thanks God for giving his wife Pragya back in his life. Kiara forgets her book in the class so she goes to get that. Pragya sees Abhi joining hands in front of God there. She comes to him appreciating him. She asks him about the reason for him believing in God. He wants to perform Aarti as Pragya does everyday. Kiara listens to that. She asks him to use the plate kept there along with the lamp. She goes to get some flowers from outside. Abhi and Pragya tries to stop her but she doesn't. Sunny keeps screaming as he wants to stop her.
Kumkum Bhagya 9 January 2019 written update of full episode: Abhi rejoice to know the fact
Reviewed by
ghost
on
January 09, 2019
Rating: