Kumkum Bhagya 12 January 2019 written update of full episode: Disha and Purab plan for Abhi-Pragya's reunite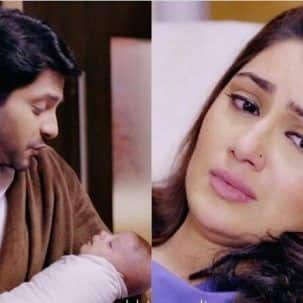 Today's episode starts with Pragya remembering how King saved her life and she delivered Kiara. She remembers that King supported her by giving Kiara his name by accepting Kiara as his daughter. She is in dilemma as on one side Abhi left her when she was pregnant and later he just came to take his daughter with him when he felt. So she decides not to reveal anything about her and King to Abhi.
In the next scene, Aliya is waiting for Tanu to come back home. By that time Tanu arrives there. Tanu enquires about Abhi. But Aliya doesn't have any idea about it. Mitali interevens blackmailing them that she knows all their secrets and she may reveal them to Abhi. Later she tells them that she saw Purab and Disha have gone to hospital as Kiara met with an accident. She warns Tanu and Aliya to talk to her with respect henceforth as she knows their secrets. Aliya and Tanu decide to do something in order to keep Pragya away from Abhi.
In the hospital, Purab is not able to decide about how to ask doctors for the DNA test of Kiara as to know whether she is Abhi's daughter. Pragya recollects the interview in which Abhi had blamed her baby for the demise of his grandmother. Later she thanks Abhi for giving blood to Kiara. But Abhi says that it is his duty to give blood to his own daughter. But Pragya tries to pretend that she is not his daughter even though their blood group is same. She keeps on saying that King is father of Kiara. But Abhi tells her that he knows the fact about her relation with King. While he is about to reveal it, Disha and Purab take him from their. Pragya is tensed as she fears that Abhi might be knowing about the fact of her relation with King. Abhi blames Disha and Purab for disturbing their conversation. But Disha and Purab make him understand to reveal the truth with a proof. Purab suggests about DNA test to prove that Kiara is Abhi's daughter.
On the other side, Aliya is thinking about the thing that is still keeping Pragya and Abhi away from each other. Tanu decides to close all the ways by which Pragya can come back in the house as Abhi's wife. Abhi doesn't agree with Purab for the DNA test without letting know anyone as it is a crime. But Disha and Purab keep trying to pacify him. By that time a lady doctor comes there. She is a big fan of Abhi. Disha and Purab request her for conducting the DNA test of Kiara secretly. Disha and Purab pacify her by doing some drama and blackmailing the doctor emotionally.
Kumkum Bhagya 12 January 2019 written update of full episode: Disha and Purab plan for Abhi-Pragya's reunite
Reviewed by
ghost
on
January 12, 2019
Rating: