Kumkum Bhagya 10 January 2019 written update of full episode: Preeta blames Abhi for Kiara's accident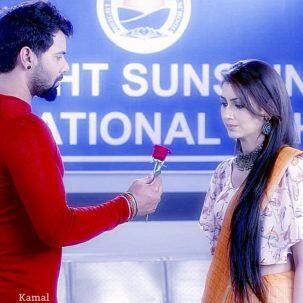 As Kiara goes to get the flowers for the aarti, Sunny tries to stop her but she doesn't listen to him. Abhi feels that there is some danger to Kiara at that place, so he runs to see her. Bulbul (Disha) and Purab spend some good time with each other as Purab is happy for Abhi. Aliya sees them as she passes by their room, she feels it weird as the door of Disha's room is open and they are romancing. She leaves from there ignoring them. Aliya recollects that she left her phone there itself so she goes back to get it. Purab keeps on praising Disha. Aliya listens to their conversation that Pragya is not married to King. She is shocked. She gets tensed as Abhi will throw her and Tanu out if he learns that Pragya is not married to King.
On the other side, Sunny, Abhi follow Kiara asking her not to go out to get the flowers. She sees the flowers but they are in the area where the construction is going on. She is very happy to see the beautiful flowers. Pragya, Abhi also feel relax to her safe. But the moment she is turns back to show them the flower in her hand, they notice that some bricks are falling down. They run to safeguard Kiara but the bricks hit her head. She collapses down. She becomes unconscious. Both of them get shocked. Abhi and Pragya take her to the hospital immediately. They are very much tensed with her condition but Abhi asks Pragya not to worry as Kiara will be alright. Sunny is also confident that Abhi is Superman for Kiara so he will save her. Pragya asks for a promise from Abhi that he will not let anything happen to Kiara.
Aliya is very much tensed about the news that Pragya is not married to King. She tries to call Tanu to inform the same but the call doesn't connect. She is very restless as it will be a problem if Abhi learns the same. Abhi and Pragya arrive at the hospital with Kiara. Doctor asks the wardboys to take Kiara to the operation theatre. Abhi and Pragya beg doctor to save her. He assures her that Kiara will be fine. He also asks Pragya to complete the hospital formalities. Pragya goes to complete the formalities but she is not able to fill up the form because of the tension. She keeps crying a lot. Abhi consoles her. She asks him to complete the formalities. She notices that Abhi has written his name as Kiara's father on the form. She gets emotional. Later Abhi hugs her to console her. Later she realizes that she hugged him so she goes to see Kiara as she feels awkward. Abhi also follows her along with Sunny to see Kiara.
Aliya and Disha come in front of each other. She humiliates Disha by calling her classless. Disha asks her to be clear. Aliya blames Disha for planning to throw out Tanu from the house. Disha also tells her that Tanu doesn't deserve to be in the house as Pragya is the perfect daughter-in-law of the house. Aliya challenges her to throw her out of the house if Pragya comes back. Disha contradicts Aliya's words. She says that she will do anything to make Abhi-Pragya together. Aliya gets angry with this. But Disha doesn't let Aliya overpower her.
In the operation theatre, doctors operate Kiara. Pragya looks at that recollecting the moments spent with Kiara. She feels very sad. Sunny thinks that Pragya and Abhi are tensed so he goes to ask someone to call at his house. Abhi also comes to see the doctors treating Kiara. He consoles Pragya. But Pragya in turn blames him for Kiara's condition as Kiara went to bring flowers for him.
Kumkum Bhagya 10 January 2019 written update of full episode: Preeta blames Abhi for Kiara's accident
Reviewed by
ghost
on
January 10, 2019
Rating: