Jodha Akbar 15 January 2019 written update of full episode: Jalal's big announcement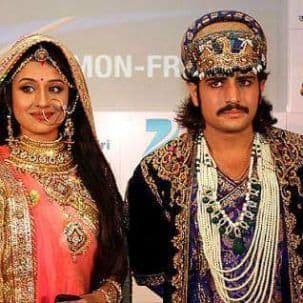 Today's episode starts with Jalal and Jodha begum meeting her father. Jalal informs them that she is fine now. Her father is proud of her to save the life of her husband Emperor Jalal. Jalal asks Jodha to get ready for the function kept for her. Jalal discusses about the attack on Mewad with Jodha begum's father. Her father informs Jalal that Sujamal is no one for them now but they are ashamed for what he has done.
Sharifuddin explains the plan of the function to Abul Mali. They plan to attack on Jalal during the function. Moti bai helps Jodha begum to get ready for the function. On the other side Hoshiar also helps Ruquiya begum to get ready. She wants to look prettier than Jodha begum. All the prisoner ladies have also been invited for the function. They appreciate Jodha begum for showing affection for them too. While Ruquiya reaches to Jalal's room as she wants to accompany him for the function, she learns that he has already left for the function with Jodha begum. She gets angry on that.
The public in Agra welcome Jalal and Jodha begum as they hail for them. Later Jalal's mother, Ruquiya begum and rests of the begums arrive at the function including Maham anga. Sharifuddin is waiting for the person to be sent by Abul Mali. Sujamal is also present in the function with some different attire. He is concerned for Jalal as his enemies might try to kill him. He decides to defuse the plan of his enemies at any cost as he has promised Jodha begum. Ruquiya is upset to see Jodha sitting with Jodha begum. Maham identifies her feelings even though Ruquiya begum tries to avoid telling her about it. Maham fuels her against Jodha begum again. As a result, Ruquiya gets angry and decides to go out with Jalal once the function is over. As the public keep on hailing Jalal and Jodha, Jalal addresses them. He announces that the slaving will be stopped henceforth. Jodha begum is very happy to know that. The public also become very happy to hear that. Ataga reads out the decision taken by Jalal. But Maham and Ruquiya are not happy with it. He also announces that he will remove the crown and enjoy the function with all as a common person. Jodha begum is surprised with the announcement. Jalal asks her about what she feels about his decision. She also appreciates it. The function starts. Many people give many types of performances like dance, songs praising Jalal. On the other side Sujamal is looking for Abul Mali's person who will attack on Jalal. Ataga checks all the security measures for Jalal's safety. Jalal along with his mother and begums enjoy the function. Sujamal decides not to come in front of Sharifuddin as he may identify him. He notices the person who was with Abul Mali. He learns that the person might attack on Jalal. But Sharifuddin is happy to see that Abul Mali's person has come to kill Jalal. Ataga alerts Jalal and asks him to be careful as Jalal interacts with the public. Sujamal keeps on looking for the person whereas the person plays flute and tries to go nearer to Jalal in order to kill him. The time when that person is about to attack on Jalal, Sujamal stops him and keeps him on the knife point. He takes the person with him away from there. Sujamal fights with the person and eventually succeeds in killing him. But by that time Sharifuddin comes with his security guards. He ask Sujamal about his identity. Later he takes out Sujamal's beard. He is shocked to see that. But Sujamal escapes from there. He pretends that he tried to kill Jalal in front of Jalal and Ataga. Ataga tells him that they have an idea about Abul Mali. But Jalal asks him to get Sujamal at any time.
Jodha begum is not able to believe that he tried to kill her husband. She shares with Moti that Sujamal is her brother and he has promised her not to harm her husband. She believes that Sujamal is a Ranvanshi so he will never break his promise but she is also wondering about the allegations by Sharifuddin. Jodha begum also shares that Sujamal had come to meet her but still he was present in the function. She is worried about her brother Sujamal as there is some misunderstanding but Sujamal will suffer unnecessarily. She decides to talk to Jalal. Moti makes her understand that she should not share such things which will spoil her relation with Jalal. She asks Jodha to pray to Lord Krishna for the betterment.
Maham is upset with the attack on Jalal. She fuels Ruquiya about Ataga for not being particular about the security measures. But Ruquiya begum doesn't listen to her as because of Ataga's security checks, Jalal is safe. Ruquiya blames Sujamal for trying to harm Jalal but still Jalal trusts Jodha begum. She asks Maham to get Sujamal arrested and get punished.
Later Ruquiya goes to sleep. In the morning; some ladies come to meet Jodha begum as they have been released from the imprisonment and going back their home. They thank Jodha begum for that. By that time Jalal comes to meet her. The ladies also thank him. Jodha also thanks Jalal for implementing her thought to release those ladies from the imprisonment. Jalal is proud of Jodha begum as because of her, he could understand the pain of such ladies and to eradicate the slaving. He finds that Jodha begum is not happy to hear all that. She explains that she knows Sujamal well and promised her not to harm her husband. Jalal tells her the passion which is there while in the war which makes them forget relations just to win the war. So he asks her to stay out of that issue. Jodha begum gets hurt with that. She gets tears in eyes. Jalal leaves from there.
Maham comes to the room of Ruquiya begum. She informs her that the ladies who were imprisoned have been released now. She appreciates Jodha begum to play the game nicely. She fuels Ruquiya begum against Jodha begum. Ruquiya begum informs her that she will be going out alone with Jalal so Jodha begum will not be able to impress Jalal anymore. But Maham demoralizes her.
Ataga informs that Sujamal is still in Agra and he will be arrested soon. Maham questions about how Sujamal entered in Agra even Jalal had asked for his arrest already. Jalal instructs Ataga to tighten the security checks. Jalal gets informed that a small boy has come to meet him. He thanks Jalal by giving him some flowers as he met his mother. Jodha begum is very happy to hear that. His mother also thanks Jalal for the same. He asks the lady to thank Jodha begum as she tried to make her unite with her son. Jodha begum is happy to see the mother-son reunite. Jalal instructs Ataga to make arrangements for the living of the people released. The lady blesses Jalal to soon be blessed with a baby. Jodha begum blushes.
The security guards keep looking for Sujamal. Sujamal is sitting with the beggers in the attire of a begger in a temple. He enquires about Jodha begum to come there so he can explain her about the future attacks on Jalal.
Ruquiya begum asks Jalal to get ready as they are about to go out for hunting. But by that time a servant comes with the message that Jodha begum wants to meet him. Jalal asks Jodha begum to come there. She asks Jalal not to go out as there is threat to his life. But Ruquiya begum is adamant to go out. Ruquiya and Jodha begum keep on fighting. But Jalal is in dilemma about what to do.
Jodha Akbar 15 January 2019 written update of full episode: Jalal's big announcement
Reviewed by
ghost
on
January 15, 2019
Rating: