Guddan Tumse Na Ho Payega 9 January 2019 written update of full episode: Parv's plan to defeat Guddan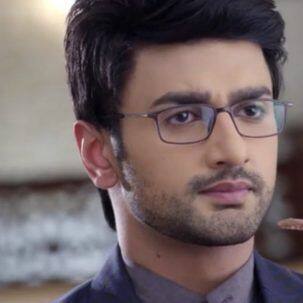 As Parv tries to deprive Guddan from the idea of using masks in the party, she just tries to keep the mask on his eyes but he removes it. She says to him that the mask exposes the real faces of people. Grandmother of AJ comes there asking whether they can't do anything before the party starts revealing that the party is kept to catch up the kidnapper. Later she realizes that she asked it in front of Parv even though Guddan had asked her not to reveal the real reason of arranging the party to anyone. Parv laughs all at the secret plan of Guddan. He teases her wishing her all the best for catching up the kidnapper. Guddan also gets disappointed. But grandmother suggests her if they can keep some dance performances in the party but Guddan says that if they all get into all the dance performances. Grandmother asks her not to worry as she will be able to perform the rituals and look for the kidnapper. Parv is tensed as he is not able to understand how he can get rid of the mask party. He tries some tricks like wearing a goggle but it doesn't work. Guddan feels to make Sidhi ready for the party. Parv bursts his anger on his wife revealing the fact that he is the kidnapper whom Guddan is looking for. While he is threatening his wife, Guddanis heading towards their room. She notices Parv trying to kill his so she shouts at him. He pretends that Sidhhi couldn't take the medicine properly so he was just helping her in that. Guddan asks him to stay away from Sidhhi. Parv taunts her as her husband stays away from her. Guddan asks him not to do any drama and asks him to leave from there as she needs to make Sidhhi ready for the party. He takes the papers of sketches from there with him. He is confident that without mask she will not be able to identify him.
While Guddan is getting ready, she finds it difficult to fix the saree properly. By that time Akshat comes there. She feels awkward asking him that he should have knocked the door before coming in. AJ asks her to get aside from the mirror as he also needs to get ready as he is not aware that she is not properly ready. She later tells him that her blouse hook is not getting fixed. He tells her that he will fix it but she feels very shy. She starts crying blaming him for not appreciating her efforts for organizing the party. He says that he will close the eyes and fix the blouse hook issue. They come closer for the same. Guddan gets awkward but at the same time she loves as he is close to her. But AJ does all that closing his eyes. Later he leaves from there.
The party starts. Guests start coming. Laxmi and Saru are still having the same problems of blindness and injured leg. While a guest questions grandmother about keeping the party after so many days of the marriage, Guddan comes there saying that there should not be any reason to celebrate the happiness in the life. Grandmother appreciates her. Durga is not happy with it as she feels that Guddan is the guest for 3-4 days as there will no kidnapper. Parv also gets ready for the party. He feels that it is going to be tough for Guddan as she will not be able to identify him. He decides to be around her sister to divert her attention and later destroy all the masks. He doesn't take Siddhi with him in the party saying that he will be meeting Chhutki. Guddan's parents and sister arrive in the party. Guddan's mother greets AJ's grandmother appreciating the idea of organizing the reception. Durga informs them that Guddan has kept the reception herself. Parv comes there. He greets Guddan's mother as mother-in-law but later corrects himself. He welcomes them. He compliments Chhutki for looking pretty. He asks her for dance. While Chhutki is supposed to keep her hand in his hand, Guddan brings Siddhi between them. Parv gets angry on her. She says that he would have not enjoyed the party without Siddhi so she took her there. Later Chhutki and Guddan go in her room. Parv gets angry as he thought of spending time with Revati but Guddan is being a problem. He is tensed as he will not be able to find out the box of masks. Revati and Guddan go to her room. Revati wants to tell her something but Guddan is busy with the party preparations. Revati gets upset as she wants to discuss about Parv but she sees that Guddan hates Parv a lot.
Guddan Tumse Na Ho Payega 9 January 2019 written update of full episode: Parv's plan to defeat Guddan
Reviewed by
ghost
on
January 09, 2019
Rating: