Guddan Tumse Na Ho Payega 15 January 2019 written update of full episode: Akshat reveals the truth to Guddan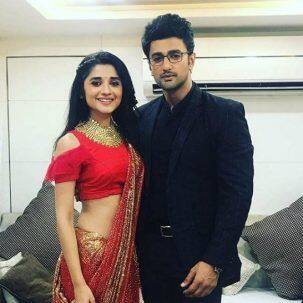 As Parv tries to go away from GUddan, Kaushalya stops him. In the party, Guddan and AJ keep on looking for him. While Kaushalya tries to talk to him about his marriage with Revati, Parv gets angry on her and leaves from there. Guddan feels that the kidnapper has succeeded in escaping from there. She keeps on trying to write something on a paper, she keeps on throwing the papers as she cannot write it properly. AJ enters the room. She tells him that she has not failed even though she couldn't catch the kidnapper but she succeeded in proving that AJ is innocent. She shares the happiness with him but she is not able to express it on the paper. So she asks AJ for the help. AJ takes the pen and paper. While he writes on the paper, Guddan is very much excited to see what he writes. She is impressed as he writes properly as she wants to write that letter to her mother which also denotes his point of view for her. But AJ looks nervous. She asks him to come with her to give the letter to her mother. She introduces her mother to him as her mother's photo is kept there in her room. By that way she expresses her feelings about him that he is also softhearted and she has learnt that now. She decides to catch the kidnapper as soon as possible. She also asks AJ to help her in that with a promise. AJ gets emotional. He starts crying. So Guddan feels that he is not willing to help her but he turns back to the photo saying that he cannot give a false promise to her mother. He says that he will not be able to help her to punish the kidnapper as he has identified the kidnapper. He informs Guddan that her step mother Kaushalya had kidnapped Revati. Guddan gets shocked to know that. He asks her to be strong as she needs to know the truth. There is a flashback where Kaushalya asks Parv to get married to Revati as soon as possible else she will reveal that Guddan and AJ got married because of her. He hears the conversation. He tells Guddan about it. But Guddan is not able to handle that. She is still not able to believe it. She cries a lot. He consoles her and asks her to accept the truth. She still feels that whatever she used to think about him earlier was only correct. She is very much hurt to know the fact from him. She feels that AJ thinks only from brain and not from the heart. She throws the letter written by him. Later she leaves from there. AJ picks up the letter. He feels that Guddan should accept the fact as it is the only truth.
In the next scene, Kaushalya eats all the food. Guddan comes there. She asks Kaushalya whether she ever broke someone's trust or threatened someone to get her work done as she still believes that her mother had kidnapped Revati. But Kaushalya ignores her as she wants to have sweets. Guddan feels that her mother should not even drink water in AJ's house as he has alleged her mother for Revati's kidnapping.
After the party is over, Guddan's father takes leave of AJ's mother. AJ comes there. Guddan is upset with him. AJ asks her father to keep coming. Later her parents are about to leave but Durga stops them asking them to know the truth. She asks Kaushalya about revealing the truth.
Guddan Tumse Na Ho Payega 15 January 2019 written update of full episode: Akshat reveals the truth to Guddan
Reviewed by
ghost
on
January 15, 2019
Rating: