Amrita Arora Ladak reveals what annoys Kareena Kapoor Khan the most and it's not surprising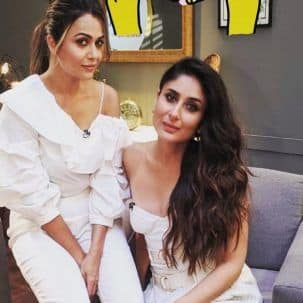 Kareena Kapoor Khan has recently turned radio show host with What Women Want. We will soon see Amrita Arora Ladak on the show where the two ladies will have a talk about friendship between women. They will talk about how female friendships are different from ones between guys. Kareena and Amrita will discuss how BFF is someone with whom you can be a little silly and share everything knowing that you won't be judged. Amrita also said that girls talk about smaller things like what is being cooked at home or what to do in a certain situation, which was unlike men who made plans.
In course of the conversation, she also revealed what makes Kareena Kapoor Khan angry even if she is with her BFFs. It seems Bebo who is a foodie hates it if someone takes a bite from her plate. Amrita said there is no chance of someone tasting a dish from her plate. Kareena is most possessive about food. The Veere Di Wedding actress agreed saying that it was cent per cent true. Amrita messed up when she said that Kareena's fave film was One Flew Over The Cuckoo's Nest when in reality it is, The Bridges of Madison County.
The two women also spoke about toxicity was slowly making its way out from female friendships as women were supporting each other even more. Kareena and Amrita both twinned in white for this special talk. Stay tuned to Bollywood Life for more scoops and updates!
Amrita Arora Ladak reveals what annoys Kareena Kapoor Khan the most and it's not surprising
Reviewed by
ghost
on
January 11, 2019
Rating: