#10yearchallenge hits Bollywood: Karan Johar, Sonam Kapoor, Shilpa Shetty Kundra and many more B-Town stars participate in the viral trend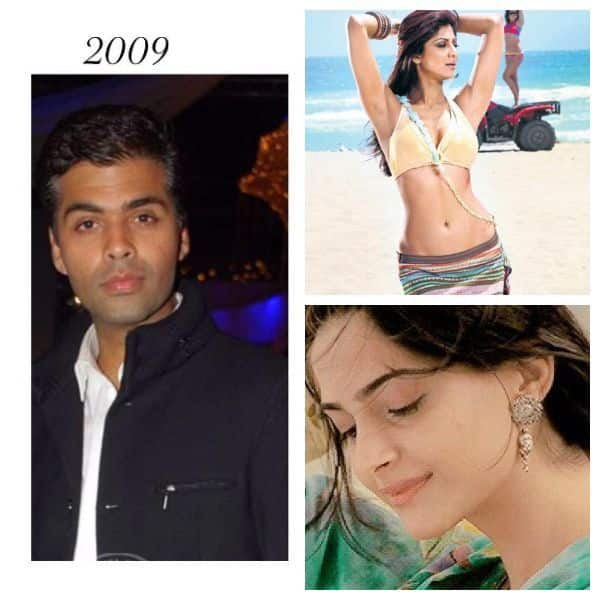 If you have been on social media over the past few days, you would have come across a particular hashtag: #10yearchallenge. The viral trend began on Facebook and eventually took over other social media platforms. Celebrities took no time to jump on the bandwagon and participant in the trend. While we made our own #10yearchallenge featuring several B-Town celebrities like Deepika Padukone, Ranveeer Singh and more, there are stars like Sonam Kapoor and Karan Johar who decided to participate in the throwback trend and share photos of themselves from a decade ago.
Karan joined the trend by sharing a picture of himself featuring his grey strands and compared to his present-day frame. It might be a decade apart, but Karan still looks dashing as ever! The filmmaker shared the collage and captioned it, "A decade!! High on hair dye but still resisting Botox! I hope this feeling lasts!! #10yearchallenge."
Shilpa shared a video comparing herself from ten years ago. She picked our favourite moment – her look from Shut Up and Bounce, which featured in Dostana, and it made our hearts skip a beat only to realise: damn, it has been years since Shilpa stole our hearts away with her moves. And boy, while we have changed, Shilpa doesn't look like she has aged at all.
Bipasha too followed the same trend as Shilpa and shared a picture from her movie, Race, which released a decade ago and compared it to her look from her upcoming movie. And just like that, she got our hearts racing.
Here are other stars who participated in the #10yearchallenge:
Do you feel old yet?
#10yearchallenge hits Bollywood: Karan Johar, Sonam Kapoor, Shilpa Shetty Kundra and many more B-Town stars participate in the viral trend
Reviewed by
ghost
on
January 16, 2019
Rating: