Sarkar controversy: Police arrive at AR Murugadoss' residence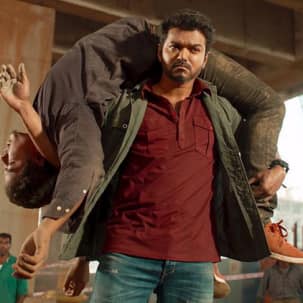 Thalapathy Vijay's latest release has been in the news for reasons more than one. On one hadn it has been making and breaking records with its box office collection, on the other, some scenes from the film are being compared with terrorist activity aimed at instigating violence against the state government. A group of activists even protested outside theatres in Madurai, Coimbatore and in Chennai which screened the movie. Speaking to reporters, Tamil Nadu law minister CV Shanmugam — without naming anyone — said the movie producer, hero and the theratre owners screening Sarkar, would face legal action.

Now the official Twitter handle of Sun Pictures has tweeted that the police arrived at AR Murugadoss' residence to arrest him, but left after enquiring about him since he was not there.



BREAKING NEWS : Police reach Director A.R.Murugadoss residence to arrest him.




— Sun Pictures (@sunpictures) November 8, 2018






After enquiring about A.R.Murugadoss' whereabouts police have left his residence since he was not there.




— Sun Pictures (@sunpictures) November 8, 2018



According to Shanmugam, the actor is instigating violence against the government "under the guise of the movie." Meanwhile, PMK founder S Ramadoss wondered whether director AR Murugadoss and hero Vijay should not have social responsibility when they speak about political responsibility in the movie. Ramadoss said that the movie has scenes in which Vijay was shown smoking. He said while Vijay in the movie fights against bogus voting, "should he not have the social responsibility of not keeping smoking scenes in the movie?"
Ramadoss quoted data to say that about 12 lakh people die from smoking in India per year and in Tamil Nadu alone, the figure is about one lakh per year.
Watch this space for more updates…
Sarkar controversy: Police arrive at AR Murugadoss' residence
Reviewed by
ghost
on
November 08, 2018
Rating: